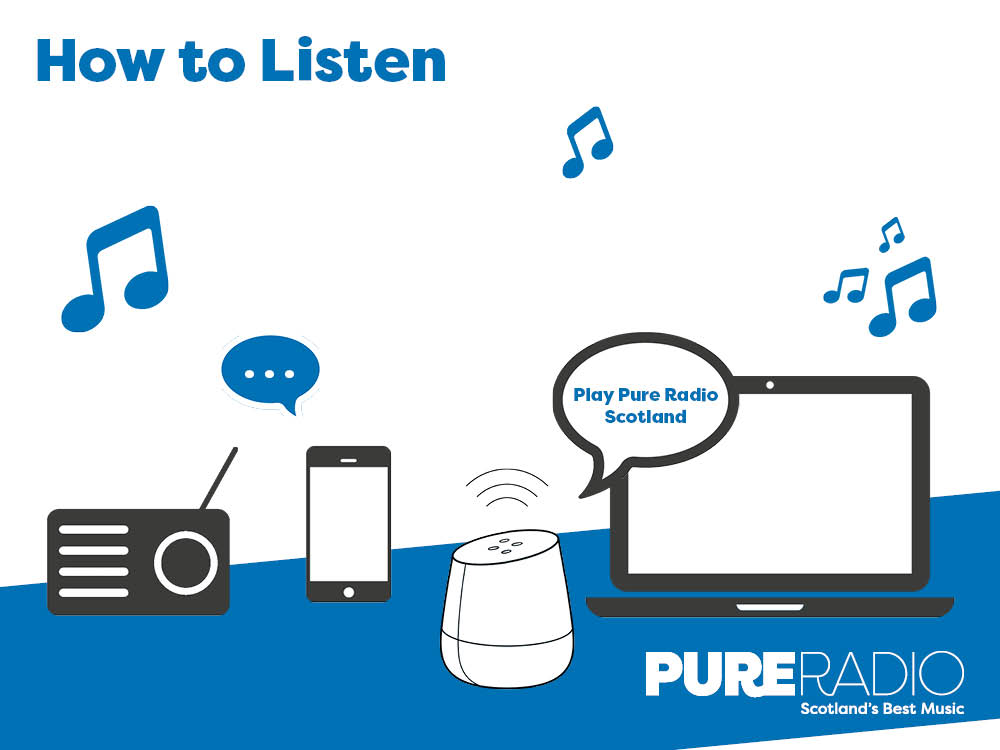 Pure Radio Scotland can be heard right across the central belt of Scotland and beyond on DAB Digital Radio or on the Pure Radio Scotland application.
And now the Robin Galloway Breakfast Show, Lynne Hogan, Paul Harper, the Drive Home with Amber Zoe, five grand snap competition and a host of other fab shows are all available to enjoy on FM RADIO throughout Dundee, Perth and Tayside on 102 & 106.6 FM.
Download our Application
Did you know you can take Pure Radio Scotland wherever you go. If you have access to the internet on your mobile phone, iPad, iPhone or Android device you can listen to us anywhere using the Pure Radio Scotland application.
Our downloadable app is available on most Apple iOS and Android devices.
Click one of the links to your relevant app store below and it will direct you on how to download the Pure Radio Scotland application.
By using the application listeners can then connect their device to a DAB digital radio and play Pure Radio Scotland through a Bluetooth speaker.
Listen Online
You are already on our website so this bit is easy.
Click "Listen Live" at the top or bottom of this page. Once clicked, it will automatically open a new web tab with our online radio player and it will play what is broadcasting live right now on Pure Radio Scotland.
You can also find us on Tune In online and in their app.
FAQs
Q: Why can't I install the Pure Radio Scotland application on my device?
A. Our app can be used on Android 4.4 and above and iOS 9.9 and above operating systems. If you are using an operating system below either of these, update the software on your device.
The application can also be used across most android devices, except tables, while it is supported on iPhone, iPad and iPod touch Apple devices.
Q: Why does the audio sometimes stop on Android when I open another app or when my phone goes into standby mode?
A: To save battery, sometimes the operating system on your phone kills our app when it hasn't been opened in a while, even if it is actively playing audio. This is something we are looking to resolve, however in the meantime, you can try turning OFF "power saving mode" in settings on your device as this might resolve the issue.
Need to know more about DAB Digital Radio? Visit our helpful DAB Digital Radio guide featuring all of the relevant and up-to-date information on digital radio.
If you have any further questions relating to the app or wish to provide any feedback, contact us.
If you're having an issue with the app, and the FAQs above don't help, we will need to be able to replicate your issue to have any chance of resolving it.